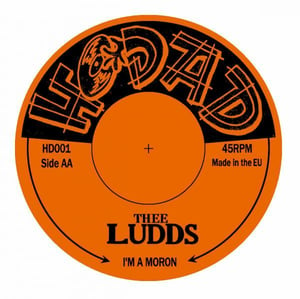 £

3.00
First release on HODAD records is one piping hot slab o' wax!
Leicester's finest trash mongers The No Brainers and Thee Ludds battle it out on seven inches of pure punk n' roll thrills and spills. A side sees them No Brainers deliver a double punch with the mustard shaking, ketchup squirtin' classic that is 'Hotdog' followed by the short and sweet 'Into the Ether'.
If you aint out for the count already flip over for the AA to hear Thee Ludds deliver their shamblin anthem for idiots "I'm a Moron". This is real whacked out no-fi recording here, none of your crumhorn hipster junk!
Strictly 200 copies, comes with a free mp3 download voucher. when they're gone they're gone!